If you've wondered about the cost of building a home in Squamish, you're not alone; particularly with the housing inventory shortage across Canada. It may have already occurred to you that it might be easier to purchase an empty lot or a tear-down house, and design and build a new custom house. A custom-built home will allow you to personalize your dream home from the foundation up.
The quick answer to how much it's going to cost to build a custom-built single-family home is $430 – $1,090 per square foot, according to WOWA, the Personal Finance Encyclopedia's June 2022 calculations, based upon Altus Group's 2022 Canadian Cost Guide for the Greater Vancouver area. And the total cost of building a 3,000-square-foot single-detached home in BC will be anywhere from $525,000 to $975,000.
The Canadian construction industry in 2022 was hit by supply chain disruptions, and sustained cost escalation, putting a strain on the budgets of builders through rapidly rising interest rates. According to the Altus Group's 2023 Canadian Cost Guide the cost of building a single-family residential house with an unfinished basement currently ranges from $180 – $290 per square foot in Vancouver. The building costs included the above-grade scope of work only, complete with foundations. Land prices will typically be lower in Squamish, but the materials and labour will be roughly the same.
In this article, we're going to cover some of the factors that affect the wide range of custom home costs, as well as those that impact the construction timeframe.
Key reasons to build your custom home in Squamish
With a population of just under 20,000 permanent residents, Squamish draws people looking for a relaxed, outdoor-oriented lifestyle, natural setting and small-town vibe, but with the amenities and opportunities of a major Canadian city like Vancouver. Squamish has a growing economy, but also provides easy access to schools or work opportunities in Vancouver, roughly an hour (69km) drive south on the scenic Sea to Sky Hwy. According to Statistics Canada, roughly 35% of Squamish's residents commute to Vancouver every week.
Squamish has a youthful population, with an average age of 37.9, younger than the provincial average of 43.1. While Squamish is popular with retirees, its attraction to young families has been lowering the community's median age, which contrasts sharply with the national trend, and its aging population. Squamish has one of the highest natural growth rates in British Columbia, with many children.
Squamish is located in direct proximity to mountains and the ocean and offers easy access to a plethora of outdoor recreational activities such as mountain biking, hiking rock climbing, mountaineering, kitesurfing and sailing. And in the winter, world-class Whistler Blackcomb skiing is just 45 minutes north on the highway.
What primary factors influence the cost of your Squamish custom home?
Construction costs are constantly evolving, and they are impacted by local and global economic conditions, market trends driven by supply and demand, adoption and implementation of the BC Energy Step Code at a municipal level, and advances in building materials, practices and approaches.
Here are a few factors that will affect the cost of building your custom home.
1. Land and location
The cost of the land is an additional expense that must be factored into your budget. The building site you choose for your new custom home will be a major component of the final price of your finished home, based on landscape, location and whether there's a house already there that must be torn down and hauled away. A rural home on a large view lot, or acreage may have different natural and man-made amenities than a flat fully-serviced lot in an urban Squamish subdivision. A rural property may require surveying, inspecting, and possibly adding electrical and plumbing hook-ups, with higher ongoing utility and living expenses.
2. Square footage and layout
The size of your home will also have a big impact on the total cost, both in time and materials. Constructing a 5,000-square-foot home is going to have a different timeline and materials list than a 30,000-square-foot estate.
One of the most expensive phases of your build is going to be framing. Complex floor plans with multiple roof pitches and floor levels are going to require more skilled labour, time and materials to complete.
3. Quality and finishes
The materials you choose will have a significant impact on the cost of your custom home. A typical 'frame construction' home, built to code, including basic framing and carpentry, drywall, insulation and cladding will remain fairly constant in price. Your design process and choices of finishing materials and energy performance targets will usually determine whether you can come in under budget or will put a strain on your finances. It's common to have to re-align the budget with your wish list at least once during the design process. Everything needs to be factored in, right down to the kitchen and bathroom fixtures, lighting and door knobs.
Design: Designing your custom dream home will involve extensive planning. Working closely with your design-build contractor or architect, and your interior designer, should be a very rewarding process, filled with inspiration and imagination.
The shell of the house: The shell includes the components that make up the skeletal build of your home, which includes the walls, roof, windows and doors. The shell makes up roughly one-third of your home's total cost.
Interior finishes: Interior fixtures and details such as paint, flooring, cabinets, countertops, millwork and lighting can also make up about a third of your estimated costs, adding upwards of $100,000.
Kitchens and bathrooms: These rooms are typically the most expensive to build, so they require detailed planning. Finishes such as cabinetry, countertops, plumbing and electrical fixtures, and luxurious features like a soaker tub or walk-in shower, can dramatically increase costs. The most effective way to keep costs in check is often to limit the number of bathrooms.
Heating, plumbing and electrical: The mechanical components used in your project represent critical decisions you will make with your designer, considering comfort, function and efficiency. The careful planning, hiring of trades, and installation of electrical, plumbing and HVAC (heating, ventilation and air conditioning) systems will account for upwards of 10% of your total project. While these are components you'll barely notice when everything's working right, they will contribute immeasurably to your comfort and the enjoyment of your new home.
Exterior finishes: Exterior finishing choices include roofing materials like standard shingles, cedar shakes, or tile. Cladding options include brick, natural or cultured stone, or wood siding. Doors include front, back and side doors, and garage doors, and could be traditional stained or painted wood, or thick energy-efficient doors with thick insulation and triple-pane glass. Gutters and downpipe options include painted continuous painted aluminum or bronze or copper.
4. The level of energy performance
Part 9 residential buildings over 1,000 sq. ft. gross floor area are currently required to meet Step 4 of the BC Energy Step Code, as part of the District of Squamish's Phase 3, rolled out on January 1, 2021. While Step 4 is the minimum code requirement, many homeowners are choosing the future-proof their homes by building to Step 5 Net Zero Ready specifications.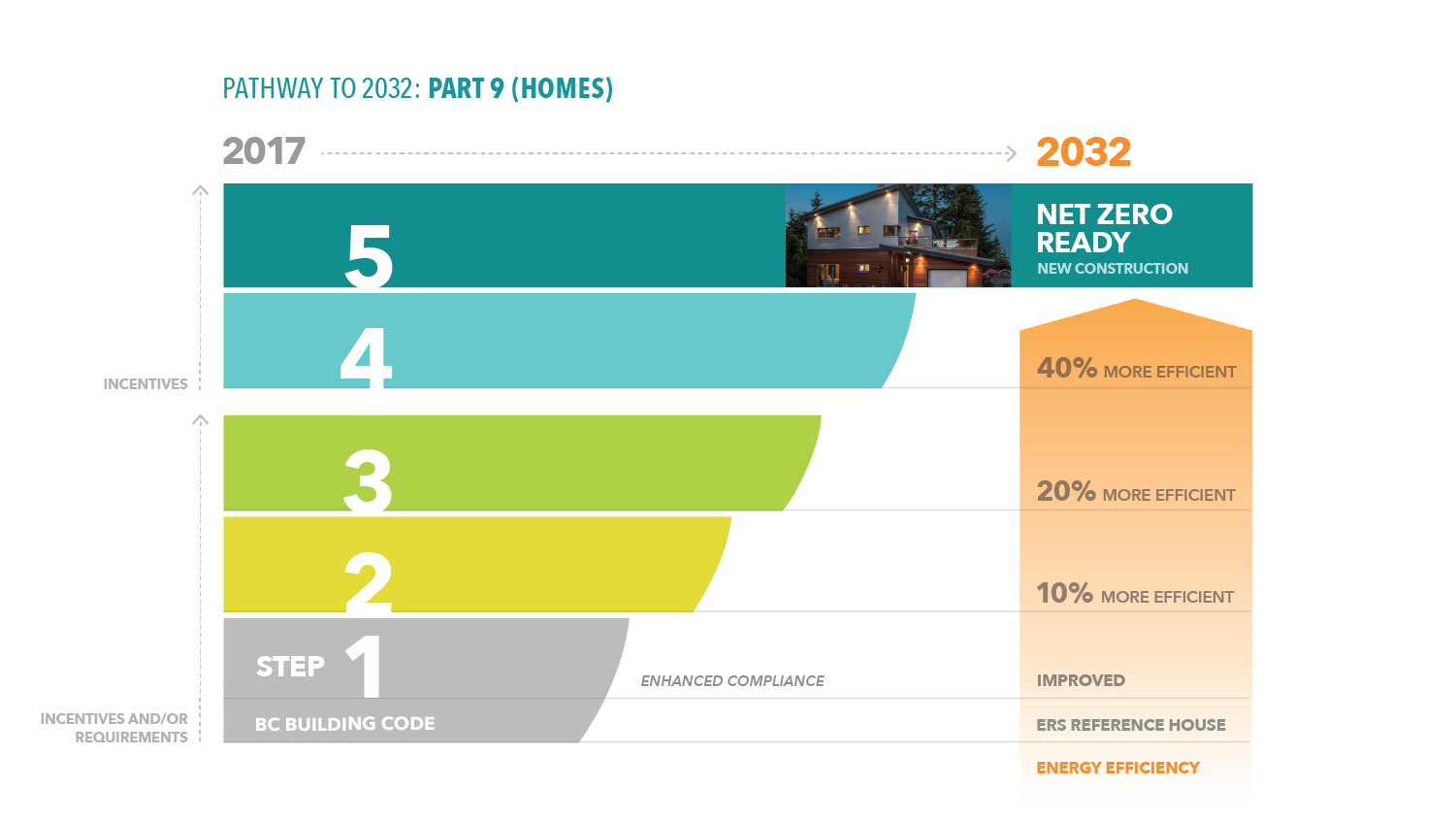 Net-Zero Energy Ready (NZER) means your home is designed to be ultra-efficient, to be upgraded to net zero at a future date. Essentially, a NZER home is a high-performance home that still needs a renewable energy solar system installed to be Net Zero.
Many Canadians still think of a net zero home as a luxury. A popular expression in the BC construction industry has become, "If you can afford a new home, you can afford a net zero energy home". Net zero homes typically cost only 10% more to build but will deliver greatly reduced energy costs and improved performance for their life cycle. Net zero homes:
lower your cost of ownership,
incorporate a ventilation system for cleaner, fresher indoor air,
are more durable and have lower maintenance costs,
deliver year-round comfort,
are healthier,
make quieter, more peaceful living spaces,
offer protection against increasing energy prices,
have a higher resale value.
5. Labour
The duration of each home construction project varies by the type of home and its complexity. Your design-build contractor, or separate architect and builder, will calculate cost and time estimates for everything that needs to be accomplished to complete your home. They will approximate the time it will take for design, obtaining the relevant permits, framing the shell, installing the roof, insulating the frame, completing the interiors and cladding the exterior, and then landscaping.
To prepare an accurate estimate, your builder will need to spend quite a few hours with you, to understand the budget you have to work with and exactly what they'll be building for you. Your builder will need bids from trades such as the excavator, framers, drywallers, plumbers, electricians, etc. And each of the bids must then be critically examined to determine whether the time estimates sound reasonable.
6. Permits, inspections and bylaws
If you're planning to build, retrofit or demolish your residence, you or your contractor must understand the District of Squamish Building Permit Application process before submitting your application. In addition to any fees required under municipal bylaws, a construction permit needs to be purchased before a project can even begin.
Development Cost Charges (DCCs) are a provincially regulated cost-recovery solution used by the District of Squamish to support financial sustainability and to serve the demands of new development. The most recent 2022 DCC bylaw totals for a single-family small lot are $16,603.
How long does it take to build a house?
If your builder is constructing your custom home from a bare, vacant lot, with the standard platform/stick framing method it will typically take 10 to 16 months. With advanced sustainable construction methods like timber framing with traditional joinery, or post and beam construction, the timeline could increase to somewhere between 18 months and 2 years.
Using pre-assembled panels is one way some builders reduce the cost and construction time when building a custom or semi-custom home. It's easier to partially assemble a house in a clean, dry factory and then put the pieces together on the site. Super-insulated Structural Insulated Panels (SIPs) are becoming a popular way to achieve Step 4 or 5 of the BC Energy Step Code. A home with a high-performance SIP shell provides a tight, energy-efficient thermal envelope with minimal thermal bridging. SIPs can offer a higher R-value than a stick-framed wall with batt insulation, and they can also increase the air tightness of the home by up to 40%.
Changes to the scope of the project are one of the most common causes of project delays and cost overruns. The initial scope of the project is calculated based on the original project plans, schedule, cost, quantity estimation, procurement and quality mechanism. If the initial scope was not clearly defined, that can lead to disagreements over what's included, resulting in cost adjustments and delays. The biggest variable, however, is scope creep, a situation where the customer makes changes along the way and variation orders are required to amend the scope and adjust the cost of the project. As a homeowner, the best way to adhere to the initial timeline and budget is to stick to the original design.
Even with the best planning and project management systems in place, there can be unexpected delays. Inclement weather can require continuous rescheduling and replanning. Extra time is usually allowed in project schedules for inevitable short weather delays, like an unexpected afternoon thunder shower, or a day or two of heavy rain. For longer periods of bad weather, rescheduling and negotiating with trades and suppliers can lead to gaps in project timelines and significant delays.
It's important to work with a builder who understands lead time, remains cool under pressure and who has plenty of connections. When unexpected situations pop up, a great project manager will assess the situation, adapt and then act, to get your project back on track. Experience matters.