Over the past few years, the focus on environmentally friendly construction has gained momentum. Organizations and governments worldwide are taking initiatives to promote sustainable building practices. Two popular standards that have gained popularity in Canada are Built Green and Net Zero.
Although both aim to create more sustainable and energy-efficient homes, they have some distinct differences, which are outlined below. We also cover the Net Zero Energy+ program, a way for you to enjoy the best of both worlds.
What is the BC Step Code, and what does "Net Zero Ready" by 2032 mean?
By 2030, the Government of Canada's target is for all provinces and territories to adopt a net zero energy-ready building code. The BC Energy Step Code is an optional compliance path in the BC Building Code that local governments in British Columbia may use to incentivize or require a level of energy efficiency in new construction that goes above and beyond the requirements of the BC Building Code.
Net Zero Ready homes are built to the very same efficiency standards as Net Zero homes. The BC Step Code targets 2032 as the year all new construction projects in the province will achieve Step 5 and be "Net Zero Ready". These homes will become fully net zero once renewable energy generation has been installed. Net zero ready homes are already wired for the future renewable energy system that will be installed. When the homeowners can invest in photovoltaic solar panels, the house will become net zero.
For Part 9 residential buildings, the BC Energy Step Code is comprised of 5 steps, representing increasing levels of energy-efficiency performance. To meet the requirements of the BC Energy Step Code, builders work with an energy advisor. The advisor analyzes the design and plans with software to confirm that they will meet the performance requirements of the target step. The builder pays particular attention to the building envelope during construction, making sure the walls, windows, doors and insulation meet the approved design criteria. Once built, the energy advisor will test the building to verify its performance.
Builders must demonstrate compliance with the BC Energy Step Code, proving to local building officials that the building meets or exceeds the performance requirements set out in each required step. Licensed general contractors in BC are required to meet prescribed qualifications, and a new condition will stipulate 2 years to demonstrate competency in building homes to Step 3.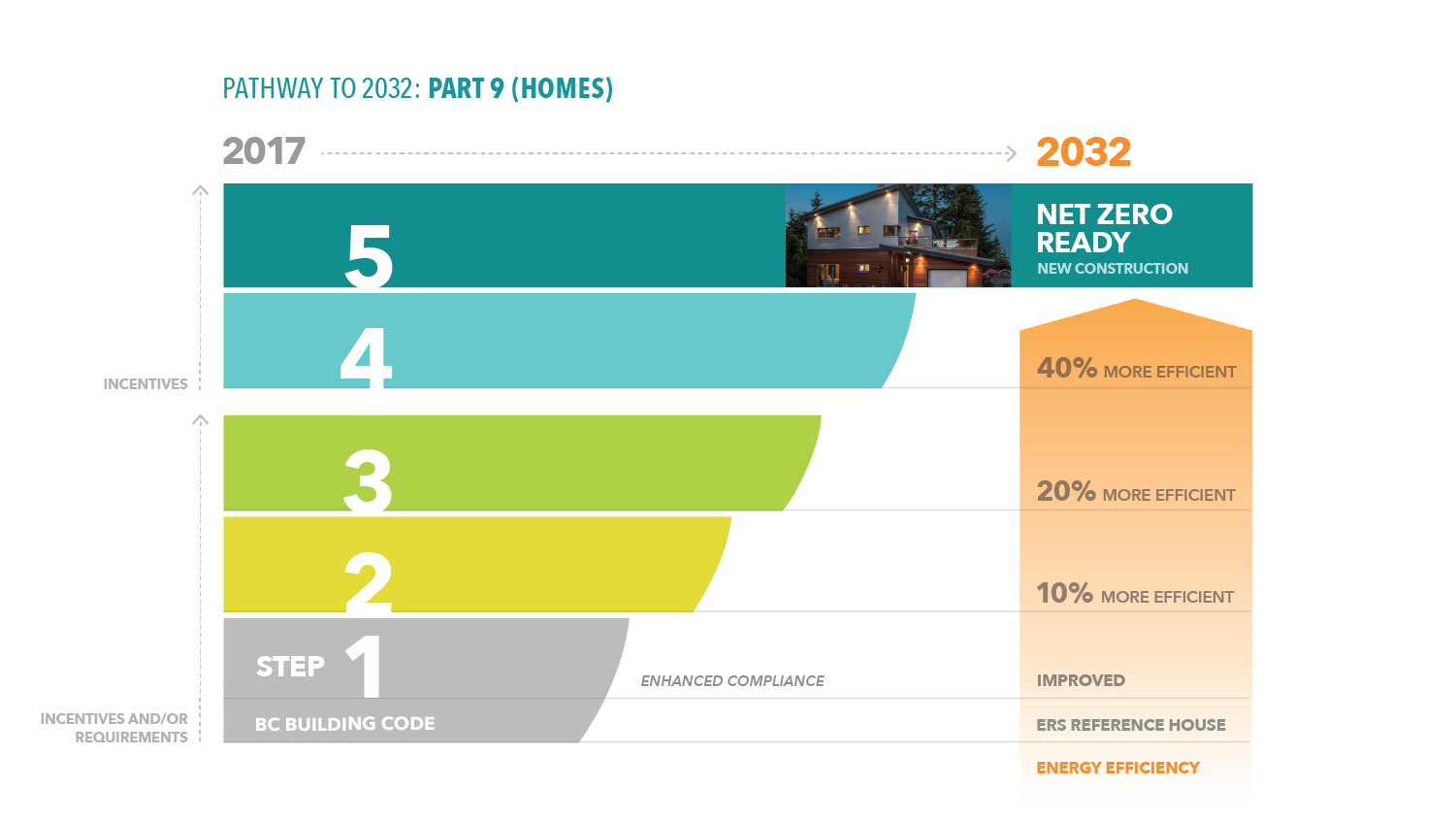 If you want a home that is future-proof, but you may not be prepared to front the entire cost of building with a solar panel system, net zero ready can meet your budget in the middle. You will be able to install the solar renewable energy component later on when the time is right for you.
It's important to note that net zero homes must be built on 200AMP lots. Regular building lots are not able to handle the energy usage of a net zero or net zero ready home.
What are the primary advantages of owning a Built Green home?
Built Green gives builders and renovators a competitive advantage, allowing them to offer a sustainably built, third-party certified home that is healthier, more durable and with a lower environmental impact.
Built Green Canada is an industry-led, national, non-profit organization that promotes sustainable building practices to reduce the environmental impact of the residential building industry. The program offers a checklist of sustainable practices for new home construction, and homes can be certified at the Gold or Platinum level based on the number of sustainable practices they incorporate.
Built Green's holistic approach utilizes advanced building technologies that consider the home as a system or the sum of its parts. The approach encompasses builder practices, building materials, HVAC equipment, windows and doors, water and electrical consumption and even site orientation.
Incentives and rebates are available for sustainable building projects from provincial governments and select municipalities, as well as FortisBC gas and BC Hydro utilities, and financial institutions. Single-family new homes certified under the Built Green® Gold or Platinum programs are eligible for a partial mortgage loan insurance premium refund of 25%.
What are the key benefits of living in a Net Zero home?
One of the most significant advantages of living in a Net Zero home is the reduction in energy consumption and associated costs. A net zero home produces as much energy clean, renewable energy as it consumes, which should potentially result in a net annual bill of zero. To meet the Step 5 requirements of the BC Energy Step Code, buildings need only be 80 percent more energy efficient by 2032, which is the "net zero ready" standard, resulting in substantial savings on your utility bills. A net zero home will also protect you from future increases in energy prices.
Super-insulation, energy-efficient windows and doors, Energy Star-certified appliances, fresh air systems, and an airtight building envelope ensure that your net zero home is low-maintenance and provides a healthier living environment. They are built to a higher standard than conventional new homes, and that makes them more durable.
The use of advanced insulation and ventilation systems ensures that indoor temperatures are more consistent and draft-free throughout the house, regardless of outdoor conditions, providing comfortable living spaces for your family. The fresh air system provides a constant flow of clean air, while removing damp or stale air, leading to improved indoor air quality and reduced risks of respiratory illnesses and allergies. Better insulation and airtight construction also deliver a quieter home.
Living in a net zero home contributes to mitigating the negative effects of climate change. By reducing greenhouse gas emissions, net zero homes help to limit the amount of carbon dioxide and other harmful gases released into the atmosphere. This reduces the impact of climate change and ensures a more sustainable future for generations to come.
Net zero homes are not just available for new builds. If you love your neighbourhood, your existing home may be a candidate for a net zero retrofit.
What are the differences between Built Green and Net Zero?
The primary difference between Built Green and Net Zero is their focus. Built Green concentrates on reducing the environmental impact of residential construction, whereas Net Zero aims to create buildings that produce as much energy as they consume.
Built Green is a rating system that evaluates a building's environmental impact based on a point system, while Net Zero is a performance-based standard that requires a building to produce as much energy as it consumes.
Both Built Green and Net Zero encourage the use of sustainable building materials and energy-efficient systems, but Net Zero goes further by requiring renewable energy sources to generate the energy the building needs.
Is the Built Green Net Zero Energy+ program the best of both approaches?
With the launch of Built Green's Net Zero Energy+ program for single-family new homes in January 2022, there is the option for another level of achievement, focused on Net Zero achievement with a holistic approach, plus the integration of the EnerGuide label through Natural Resources Canada (NRCan).
The Net Zero Energy+ program goes beyond energy efficiency in promoting sustainable building practices, including:
the preservation of natural resources,
ventilation and air quality, and
Built Green Net Zero+ is an extension of the Built Green Canada program and offers a label that certifies that homes have met strict requirements for sustainability and energy performance and are ready to go net zero. To receive certification under this program, homes must meet the Net Zero energy performance requirements and Built Green Gold or Platinum level through the checklist, which outlines the six other key sustainability areas of the program.
Builders and customers will earn both the Built Green® label and the EnerGuide label, a verification of the energy performance and green features that have been integrated into their new home.
The takeaway
The Built Green Net Zero Energy+ program offers builders the tools and knowledge to construct energy-efficient homes, built to the net zero energy performance requirements and either the Built Green Gold or Platinum level, which provide a checklist for six other key sustainability areas. The program offers a holistic approach to sustainable building practices, incorporating natural resource preservation, reduction of pollution, and improved ventilation for a healthier home environment.
Reid Madiuk's been putting on a toolbelt since he was twelve years old, alongside his father, one of Whistler's first residential builders. As a third-generation Whistler and Squamish builder, Reid brings over 20 years of carpentry expertise to designing and constructing exceptional homes.